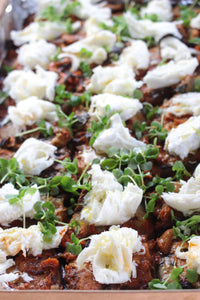 Three vibrant veggie dishes served with freshly baked Focaccia, Tapenade, Sharing Salads and a Seasonal Dessert option. 


Our Vegetarian and Vegan Feasts are ready to serve. You may, however, like to serve some of the dishes hot, so simple heating and plating instructions are included.


Please note that as we work with the seasons ingredients will change throughout the year.


ITALIAN VEGGIE FEAST

Focaccia with Tapenade
gluten, sesame

Aubergine Parmigiana with Mozzarella & Basil Cress 
milk (no allergens in Vegan Version)
Grilled Broccoli with Garlic & Red Chilli
Mushroom, Rosemary & Taleggio Arancini 
gluten, egg, milk (no milk or eggs in the vegan version)

Panzanella with San Marzano Tomato, Roast Peppers, Olives, Capers, Focaccia, Rocket & Basil
gluten, sulphites
Seasonal Slaw with Pomegranate, Fresh Herbs & Lime
sulphites, celery


DESSERT OPTION
Chocolate Brownie with Whipped Cream
eggs, milk
Apricot, Almond & Polenta Cake with Honey Yoghurt
eggs, milk, nuts

Pavlova with Vanilla Cream & Kent Berries
milk, eggs
VEGAN Chocolate & Date Brownie with Whipped Oat Cream

VEGAN Coconut & Passion Fruit Cake with Coconut Yoghurt Frosting & Lime
nuts